Elizabeth McGovern Webpage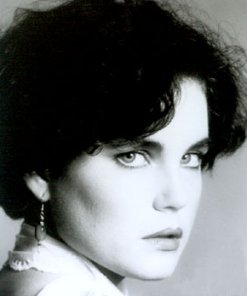 This is a webpage dedicated to the stage, movie and TV actress Elizabeth McGovern.
The title notwithstanding, it is not her official webpage, and she has nothing to do with its creation or content (besides being its subject!).

Elizabeth McGovern was born in Evanston, Illinois on July 18, 1961, the daughter of a professor at Northwestern. She later moved to Los Angeles with her family when her father accepted a position with UCLA. She attended North Hollywood High School, where she performed in school plays. Her performance in The Skin of our Teeth, the Thornton Wilder play, caught the eye of agent Joan Scott, who urged her to attend the American Conservatory Theater that summer.

She attended the Juilliard School of Dramatic Art in New York, and while there was cast in her first movie, the Oscar-winning "Ordinary People," which was also the directing debut of Robert Redford.

Elizabeth McGovern has since appeared in many movies, on television and on stage. She currently lives in London with her husband Simon Curtis and her two children, Elizabeth and Grace. She was most recently seen starring in A&E's "The Scarlet Pimpernel," based on the entertaining Orczy adventures about Revolutionary Europe.
---
Images

I've included images in the reviews below when possible, but here's where you'll find other images, including autographed glossies.
---
Filmography

Most recent performances are listed first. I've reviewed some of the material -- click on the title if it's underlined to see the review. My reviews contain nothing to spoil the movie for you.
Misadventures of Margaret, The (France, 1998) as Till Turner
The Scarlet Pimpernel (1998, TV) as Lady Marguerite Blakeney
Twice Upon a Yesterday (1998) as Diane
Clover (1997) (TV) as Sara Kate images
The Wings of the Dove (1997) as Susan Stringham
The Summer of Ben Tyler (1996) (TV) as Celia Rayburn
Broken Glass (1996) (TV) as Margaret Hyman
"If Not for You" (1995) (TV, series) as Jessie Kent
Broken Trust (1995) (TV) as Janice Dillon
Wings of Courage (1995, IMAX) as Noelle Guillaumet image
The Changeling (1994) (TV) as Beatrice-Joanna
The Favor (1994) as Emily
King of the Hill (1993) as Lydia
Tales from Hollywood (1992) (TV) as Helen Schwartz
Me and Veronica (1992) as Fanny
"Ashenden" (1991, Miniseries)
Tune in Tomorrow (1990) as Elena Quince
The Handmaid's Tale (1990) as Moira
A Shock to the System (1990) as Stella Anderson
Women and Men: Stories of Seduction (1990, TV) as Vicki
Johnny Handsome (1989) as Donna McCarty
She's Having a Baby (1988) as Kristy Briggs
The Bedroom Window (1987) as Denise
Dear America: Letters Home from Vietnam (1987, TV, voice)
Native Son (1986) as Mary Dalton
Racing with the Moon (1984) as Caddie Winger
Once Upon a Time in America (1984) as Deborah
Lovesick (1983) as Chloe Allen
Ragtime (1981) as Evelyn Nesbit
Ordinary People (1980) as Jeannine
---
You're welcome here anytime! I aim to continually update the site.