Elizabeth McGovern Webpage
A Review of KING OF THE HILL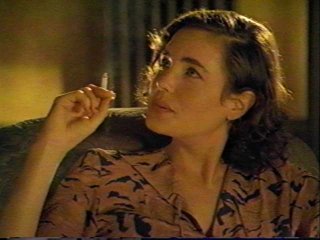 Elizabeth McGovern's Lydia has a strange arrangement with "Mr. Mungo" in KING OF THE HILL. Eight additional video-captured images of Elizabeth McGovern in King of the Hill can be found here.
In King of the Hill, director Steven Soderbergh brings to the big screen A.E. Hotchner's memoirs of his childhood in 1930's St. Louis. It's a tale of people holding tight to each other to avoid the centrifugal effects of the Great Depression. Although he tells his tale in an uncompromisingly realistic way, Soderbergh still manages in the end to create a romantic vision of life in difficult times.
The Kurlander family is hanging on by a thread in a low-rent hotel populated by others in the same predicament. Slowly but surely, by mandate of the bank that has taken over operation of the hotel, these residents are being pushed out. Young Aaron Kurlander (Jesse Bradford) watches as his family life slowly disintegrates until, bizarrely, he faces the world — literally — alone.
But in the midst of destitution and avarice there's generosity and friendship. The movie touchingly presents these little moments of connection between people. Aaron's friendships with his hotel neighbors (particularly well-done by Adrien Brody as Lester, Spalding Gray as "Mr. Mungo" and, especially, Amber Benson in a heartbreaking performance as Ella), his devoted teacher (Karen Allen) and his school friends are deftly written, directed and acted.
Despite our more affluent world, these simple, heartfelt relationships make us envy the closeness of America in the '30's.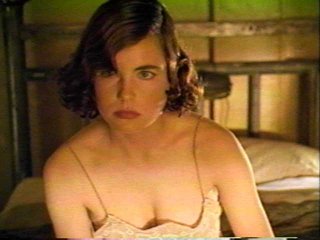 Elizabeth McGovern has the small role of Lydia, a prostitute who entertains "Mr. Mungo." A failed businessman, "Mungo" apparently still has the wherewithal to provide Lydia with meals in exchange for her company. McGovern gives an effective performance as another casualty of the Depression, a young woman selling herself for food. The scenes between this strange couple -- educated, softspoken Mungo and vulgar, deadpan Lydia -- are really quite peculiar. McGovern gives Lydia just enough personality to make her interesting and even strangely sympathetic without losing the unpleasantness the character requires.
McGovern and Allen are both given very little to work with in King of the Hill, but they each use their considerable talents to breathe life into their peripheral characters.
Soderbergh does a terrific job of bringing a bright boy's life in challenging times to the screen. Highly recommended.
Singer Lauryn Hill has one of the more substantial small roles as the gum-chewing elevator operator.
since counter added 5/18/99