Elizabeth McGovern Webpage
A Review of LOVESICK
Psychiatrist Dudley Moore falls in love with patient Elizabeth McGovern in Marshall Brickman's Lovesick.
The movie poster and nineteen additional video-captured images of Elizabeth McGovern in Lovesick can be found here.
Marshall Brickman's romantic comedy Lovesick is a dreamy, slight story. Sol Benjamin (Dudley Moore) is a Manhattan psychiatrist who inherits a patient, budding playwright Chloe Allen (Elizabeth McGovern) from a colleague (Wallace Shawn) who has literally died of longing for the beautiful, gentle, vulnerable young woman.
Of course, seconds after meeting her, the married Benjamin finds himself falling for the irresistable Chloe.
The movie focuses on the dilemmas that result from his attraction. First, it's obviously unethical to have a relationship with a patient. This could get him into trouble with his peers, and maybe even the law. Second, he fears that Chloe's evident attraction to him may be "cross-transference," or the transference by the patient of feelings she has for others in her life onto her therapist. If that's true, Chloe's feelings for him are not really for him at all. Third, well, he's married.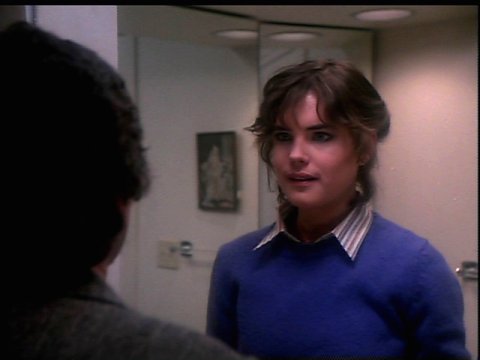 It's funny where psychiatrists turn up in Marshall Brickman's Lovesick.
All of this -- the development of Sol's relationship with Chloe, the handling of the dilemmas -- unfolds in a curiously lackadaisical way. This is a whisper-thin movie. In an attempt to make a lighthearted movie, Brickman made a lightweight one. For instance, the resolution of the conflict between Sol's love for Chloe and his marriage is so effortless that it leaves you wondering why Brickman had Sol married in the first place.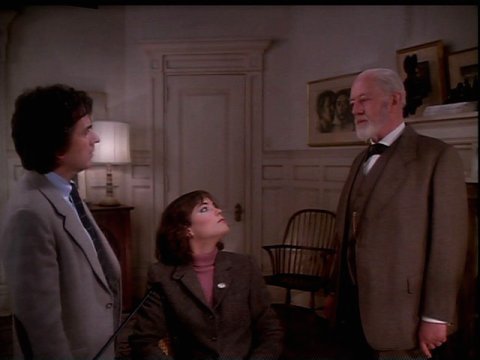 There are other problems. To create a plot point, Sol and Chloe are put into conflict over Chloe's handling of a favor for Sol involving one of Sol's patients (the wonderful David Strathairn in his second movie role). In order to move this conflict along Sol and Chloe become different people than they've been up to that point, which is of course a little disorienting. When levers are pulled like that it yanks me right out of the movie. I had this same problem with Alec Guinness' appearances as the spirit of Sigmund Freud, who visits Sol to caution him against getting involved with a patient. Guinness is wonderful, and some of his Freudian references are very clever, but the appearances don't add anything to the movie. Like Sol's marriage, they are basically pointless.
For all that, the movie has a wistful, romantic feel that I enjoyed. For me, this was heightened by the vistas of New York City in the early 80's, when I was in college at NYU. (My Dinner With Andre does that for me too.)
Most of the slight charm of the movie is due to the light handling by the performers of their roles. Moore was a huge romantic-comedy draw at this time, and the movie is largely a vehicle for him. Ms. McGovern's role is largely to be very sweet and very beautiful, which she is, but, as usual, she rises above the limitations of her role and turns in a fine performance. It's not Chinatown, but Lovesick is diverting.
since 2/26/01