Elizabeth McGovern Webpage
A Review of RAGTIME
Back in the early 80's, video manufacturers tried, in vain, to prevent duplication. Well, it was in vain, but it has prevented my poor Snappy device from creating video captures of the old copy of RAGTIME I rented from the local store! Sorry to have no video captures available yet. A shame, really, as Ms. McGovern is simply lovely in RAGTIME. I'm working on it. Check back to get an update on this gripping saga.
Ragtime is a movie adaptation of the E.L. Docturow novel set in the New York area in the beginning of the Twentieth Century. Each of several story lines involves to some extent a bourgeois family in New Rochelle, then and now a suburb of New York City. The movie version of Ragtime is ultimately the story of Coalhouse Walker Jr. (brilliantly acted by Henry Rollins), a black player of ragtime who is dealt an injustice while in New Rochelle which soon matures into a full-blown tragedy for him. He subsequently pursues his vengeance with the same fanaticism as Kleist's character Michael Kolhaas. The book and the movie challenge you to decide whether you agree with the form of his pursuit of justice.
A subplot involves the murder of architect Stanford White (played by Norman Mailer!) by Harry Thaw, the arrogant, dimwitted son of the wealthy Pittsburgh Thaws. White had commissioned a statue sculpted for Madison Square Garden using Thaw's wife, the "ex-chorus girl" Evelyn Nesbit, as a model. The enraged Thaw repeatedly demanded the removal of the statue and finally shot White to death in public. The subplot centers on Evelyn Nesbit and what she does during and after the scandal.
Elizabeth McGovern's portrayal of Evelyn in Ragtime established her as a major acting talent on the big screen and earned her an Oscar nomination. While her touching performance in Ordinary People took advantage of her gentle beauty and soft voice, it was in Ragtime that she had the first real opportunity to prove that she could create characters who are remarkably engaging and real, a rare commodity in Hollywood. McGovern's fickle, charming Evelyn is the most engaging character in Ragtime, no mean feat in the midst of many really fine characterizations. It is a memorable performance by a young Elizabeth McGovern.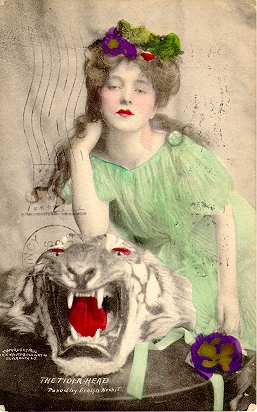 The real Evelyn Nesbit, "bird in a gilded cage," poses with an unfortunate tiger in a turn of the century postcard.
Particularly remarkable, dare I say, is her well-known scene with Brad Dourif (a vastly underrated actor who plays Younger Brother) in which she is quite unclothed. McGovern plays it masterfully -- naked in the midst, ultimately, of several strange and hostile men, she nonetheless carrys on a conversation with utter ease. It's actually quite moving, in a way; you'll feel as if the worldly, unselfconscious showgirl is alive before your eyes. There isn't a trace of anyone but Evelyn in McGovern's performance in this astonishing scene.
Overall, the movie is absorbing, even moving at times. One problem is that, despite the large amount of material inevitably left out from the massive book, the movie still struggles to cover too much of the book's content. As a result, it sometimes glosses over what little content from the book that it does offer us, choosing to focus on the Coalhouse Walker Jr. story, which, frankly, was a rather odd decision, as it's the least plausible of the multiple storylines. But don't let this discourage you one bit from seeing this very entertaining, superbly acted movie.

since counter added 5/11/99