Elizabeth McGovern Webpage
A Review of A SHOCK TO THE SYSTEM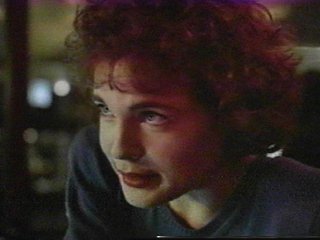 Sympathy for the Devil: Elizabeth McGovern as Stella in A SHOCK TO THE SYSTEM. About a dozen additional video-captured images of Elizabeth McGovern in A Shock to the System can be found here.
(The following review reveals a little plot, but in my opinion it does not ruin the story for you.)
Although made and set in the U.S., the nasty, funny semi-fantasy A Shock to the System is very English, embodying as it does a decidedly unsentimental sensibility. Not coincidentally, its star (Michael Caine) and the writer of the novel upon which the movie is based (Simon Brett) are both Englishmen.
It's essentially a tale of transformation. Graham Marshall (Caine), a middle-aged executive, is set to take over his department upon the retirement of his friend and boss, George Brewster (the always-craggy, entertaining character actor John McMartin). Graham is a good guy, an old-style, people-oriented upper exec.
(On a very personal, extremely irrelevant note, I immediately took to his character, as his commute is my commute -- Metro North into the City (as Manhattan is known to the egocentric metropolitan New Yorker), subway down to the Wall Street area. I am a lawyer instead of a businessman, thank goodness, so I don't have to deal with the Byzantine politics of the corporate ladder climber, but at least I understood his trip!)
But Graham does not get the position he has worked years for. This goes to Bob Benham (a great performance by Peter Riegert), "Young Turk" and prick, who promptly ceases kissing Graham's ass and sets about undermining his position.
This by itself is plenty to deliver the shock to Graham's system. But there's more. At that same vulnerable time, Graham is involved in a terrible chance accident, from which he unexpectedly emerges unscathed. Shock plus a feeling of magic invulnerability combine in a toxic brew, and Graham … changes. He sets about giving his own shock to the system that has shown its true colors.
Caine does a terrific job as good-into-evil Graham. After a run of roles in which he delivered workmanlike but really just coasting-along performances, Caine uses his impressive storytelling skills to full advantage in A Shock to the System. It's a welcome change to see him breathe life -- malignant life -- into a character.
Elizabeth McGovern gets second billing in A Shock to the System as Stella, Graham's junior co-worker and friend. Long-suffering Stella has clearly always been too good a person to act on her obvious interest in the married Graham, but when a change in circumstance makes him available, Stella falls for him, or for the man she thinks he still is -- the man he was before his change. McGovern's portrayal of the smitten Stella is utterly captivating because it is subtly layered. Look at the expressiveness of her performance:

Here Stella has just been asked to dinner by Graham and has just accepted, almost overwhelmed by the possibilities.

After dinner, Stella looks out of her taxi at the object of her affection to check to see if she's dreaming. McGovern is a genius at using tone of voice and facial expression to perfect effect. (When Elizabeth McGovern plays a woman in love, the result is, to say the least, adorable.)

After some fear that Graham is not really interested, Stella has just been asked out again, and is clearly pleased.
The role of Stella is the spot we stand on to look at Graham and so is critical to our understanding of Graham's character. It's another perfect turn by McGovern. Her portrayal of Stella helps make the movie what it is -- unsentimental, funny, a little sobering.
A Shock to the System has its problems. Some of the exposition is so clumsy that it jars you right out of the movie and a few of the characters, most notably Leslie, Graham's wife (Swoosie Kurtz in a thankless role) are cardboard. But for all that it is a compelling, funny and hair-raising tale. Not for those who cherish happy endings. Recommended.
Look for Samuel L. Jackson in a small supporting role.

since counter added 5/18/99