Elizabeth McGovern Webpage
A Review of TUNE IN TOMORROW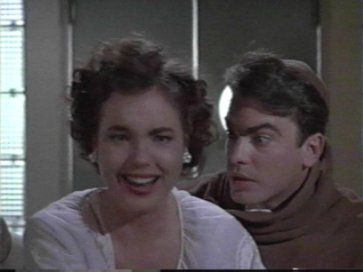 Elizabeth McGovern and Peter Gallagher have an epiphany as forbidden lovers in TUNE IN TOMORROW.
Nine additional video-captured images of Elizabeth McGovern in Tune in Tomorrow can be found here.
Jon Amiel's Tune in Tomorrow is an attempt to translate Mario Vargas Llosa's novel, Aunt Julia and the Scriptwriter, to the screen. Set in the 1950's, the movie is about Martin (Keanu Reeves), a young newswriter at a New Orleans radio station, and his relationship with his recently-arrived Aunt Julia (Barbara Hershey). While this is going on the station hires legendary scriptwriter Pedro Carmichael (Peter Falk) whose scandalous soap operas soon become wildly popular with listeners.
Martin establishes a friendship with Carmichael and comes to realize that the soap is beginning to bear more than a passing resemblance to his own taboo relationship with Aunt Julia. That's the motif of the movie -- the way we steal from writers and the way they in turn steal ideas from their audiences. And there are examples aplenty of that at work in the movie -- whether intended or not, many of the things Julia and Martin say to each other have a stagey sound to them.
Tune in Tomorrow doesn't really work as a movie. Reeves is wooden and the production has a thrown-together feel to it at times. But that said, it can be pretty entertaining. Hershey is good as sultry, world-weary Julia and Falk is amusing as Carmichael. The writing is fun at times, particularly in the many ridiculous barbs aimed at Albanians, Carmichael's nemeses. (When asked why he has such distaste for Albanians, Carmichael replies that a man's gotta have something to hate.) My favorite of these is "You look like an Albanian fellow whose owl has just died."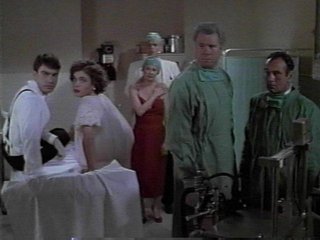 Carmichael's soap opera characters are realized on the screen just as they'd be imagined in the minds of the listeners. Dan Hedaya, Peter Gallagher, Buck Henry, John Larroquette and Elizabeth McGovern are among the actors putting in cameos as the soap characters. Ms. McGovern plays Elena Quince, whose forbidden love for her brother (Gallagher) mirror's Martin's relationship with Aunt Julia. McGovern is fun as the scandalous heroine, but she's on screen for no more than a minute or two.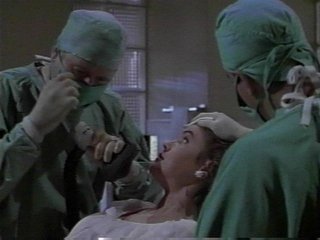 Tune in Tomorrow doesn't really deliver what it intends to, but it's diverting and sometimes quite clever.

since 12/05/99