Elizabeth McGovern Webpage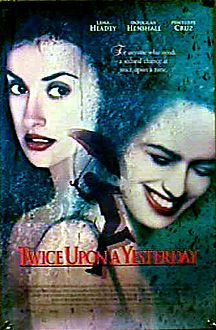 A Review of TWICE UPON A YESTERDAY
Coming hard on the heels of 1998's very similarly themed Sliding Doors, Maria Ripoll's Twice Upon a Yesterday can't seem to escape comparison with the successful Gwyneth Paltrow film. It manages to escape it here, however. Happily, I did not see Sliding Doors, so I am forced to judge the movie on its own merits.
Twice Upon a Yesterday is the story of Victor (Douglas Henshall), a young actor who gives up his girlfriend, love of his life Sylvia (the adorable Lena Headey) in order to play out an infatuation with another woman who Victor subsequently realizes is not right for him after all. Now, Sylvia has met another guy who she intends to marry, and Victor is desperate to get Sylvia back.
Due to some sort of supernatural intervention, Victor goes back in time with all the knowledge of his past (now future) mistakes. He's given a second go at Sylvia.
Twice Upon a Yesterday gives Victor his second chance for much the same reason that genies are supposed to "grant three wishes" — in order to show the unanticipated consequences of wish fulfillment. This is a Spanish/English co-production, so a little magical realism isn't particularly surprising. Mercifully, the movie doesn't get overly wrapped up in the fantasy details, which is just as well because the supernatural element — buoyant garbage men in a magical landfill — is pretty hackneyed.
Elizabeth McGovern is part of the fantasy element as well, but she is provided a more subtle role than the two garbage men. She plays Diane, a bartender who lends a sympathetic ear to Victor in his misery over Sylvia and then functions as the catalyst for his second chance by, what else, lending him a tattered old umbrella. It's a cameo, but McGovern, who is awfully cute with red hair, does a good job of bringing a faint aura of mystery to smooth-talking Diane.
So much for fantasy. Twice Upon a Yesterday is much better at considering the altered paths our lives might take if we were able to rewind our love lives. (To be frank, it seems very likely that there was a decision to minimize or even trivialize the magical element of the story.) This is where the movie settles down and this is why I ultimately found Twice Upon a Yesterday to be very entertaining. The actors are engaging and the smart, ironic screenplay is relatively free of that peculiar, slapstick-y "zaniness" that seems to infect English dramas about young people. (If you want an example, rent The Tall Guy and enjoy the music sequence that virtually knocks the wind out of the movie.)
In the end, the real fantasy element of Twice Upon a Yesterday is that Victor doesn't fall for Louise (the remarkably beautiful rising star Penelope Cruz) at first sight.

since counter added 6/15/99