Elizabeth McGovern Webpage
A Review of THE WINGS OF THE DOVE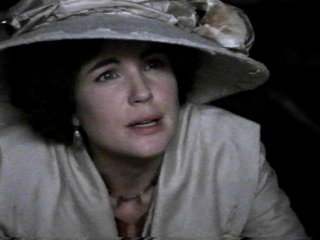 Elizabeth McGovern elegantly portrays Susan, subtly protecting her friend Millie in THE WINGS OF THE DOVE. Ten additional video-captured images of Elizabeth McGovern in The Wings of the Dove can be found here.
The Wings of the Dove is a film adaptation of a Henry James novel and, accordingly, I was prepared to hate it. I still had sour memories of Howard's End, that horrid costume drama that chose to totally ignore the heart of Forster's novel -- "just connect." Then there was the more recent BBC version of Pride and Prejudice -- the one with Colin Firth -- and its preposterous disregard for what may very well be the greatest novel ever written in the English language. (The 80's BBC production is vastly superior.) So what on earth would this production do to the discursive old ex-pat's novel?
I have to confess that I was very pleasantly surprised by The Wings of the Dove. The movie is a wholesale abbreviation of James's novel, but it chooses to focus on key elements of the novel and is remarkably successful at conveying the book's message. It's no costume drama.
Henry James wrote often about the relationship between Europeans and Americans. James considered Europeans to be far more cynical and calculating than the callow Americans of the time. The complex Europeans fascinated and repulsed him, and his frustration with American guilelessness went hand in hand with a genuine affection for their disarming honesty and simplicity. (One could, of course, debate the accuracy of James's observations.) Ambivalence is thus a central theme of his work, as it is in The Wings of the Dove.
By necessity, the movie delivers this story more directly than James ever would, but the screenplay is adult and sophisticated. In fact, the Europeans are a bit less one-dimensionally scheming, a bit more human here than in the novel.
Kate Croy (played by apparently tiny, definitely exquisite Helena Bonham Carter), is an Englishwoman who (for decidely European reasons) cannot obtain her lover, Merton Densher (Linus Roache). Ailing American heiress Millie Theale (Allison Elliot) is introduced, offering Kate an opportunity -- but, she discovers, at considerable risk. Most of the story unfolds during a trip to Venice.
Elizabeth McGovern plays Susan, Millie's American travelling companion. Susan has a tender and unconditional love for Millie, but does not smother her -- Millie has precious little time left to live her life, so Susan allows Millie to find her own way despite a strong desire to protect her.
Kate's relationship with her scheming Aunt Maude (played by the wonderful Charlotte Rampling) is effectively offered as a Jamesian contrast to Susan's almost-maternal love for Millie. Maude, Kate's wealthy patron whose chief aim is to manipulate other people's lives, scoffs at Susan's lack of effective control over Millie, describing her as "nothing more than a glorified maid."
Not for the first time in her career, McGovern's performance in The Wings of the Dove is an uphill battle. While Susan was a well-developed character in the novel, here she is often asked to do little more than stand around looking concerned. (I suspect that some of Susan's scenes were left on the cutting room floor, which is a shame.) Luckily, McGovern has proven that she can do a lot with a little, and she very effectively portrays Susan's moving love for Millie with the only tools available -- subtle expressions and intonations.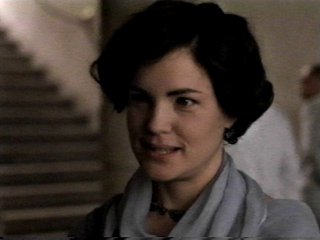 Elizabeth McGovern, as beautiful as ever in THE WINGS OF THE DOVE
Watch the movie, weigh your feelings for the character, and then consider the amount of space McGovern was given to develop her role. I personally think it's an impressive achievement.
Director Iain Softley keeps things intelligent and only rarely employs melodrama to convey feeling. I'm happy to report that The Wings of the Dove is a very good effort at telling James's story. Recommended.

since counter added 5/18/99